The legendary Royal Enfield Bullet is one of many examples of older technology, which has prevailed in modern India. It is a 500cc single cylinder true classic which was manufactured in Madras from 1955 up until 2007 when production of its original form ceased.
Our fleet comprises of well-maintained later models sporting 12v ignition and disc front brakes.
The Bullet has good positive handling and suspension with a maximum speed of around 110 kph. A realistic cruising speed on most Indian roads is 50-70 kph and the bikes have ample power at these speeds. The Bullet has passed the test of time and remains the ideal bike for India's sometimes challenging conditions. We have a Bullet at home in Parakai for confirmed clients to have a practice ride.

The bikes used on our tours are well maintained 500cc models rented on your behalf from Inder Motors in New Delhi. Lally Singh is the owner and operator of Inder Motors, a dealership with an international reputation for preparing first class motorcycles for both extensive touring in India and for export.
He and his team of mechanics supply bikes for ours and several other touring operations and regularly prepare motorcycles for the arduous overland journey to Europe.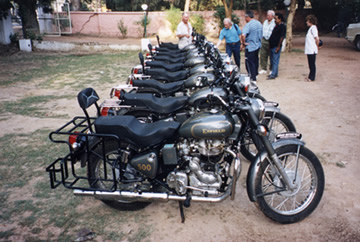 Before each tour each bike is thoroughly overhauled and tested, and they are checked by our mechanics after every riding day during the tour. Being passionate bikers ourselves, we know that there is nothing worse than
a poor machine on a tour and we are fanatical about getting the bikes right. All of our tours are followed by a back up vehicle, carrying our luggage, mechanic and a full array of spare parts. There are limited places for non riders to accompany us on tour in this vehicle. In case of temporary sickness, a rider is able to take a break from riding.

We carry a comprehensive first aid kit including oxygen on the Himalayan tour and our team are fully trained in frst aid.

Though your riding skills will undoubtedly improve during your tour, you must be an experienced rider. India is not a good place for a novice rider to learn, nor for a lapsed rider to become current. At the beginning of each tour we hold a detailed safety briefing and allow ample time for you to get used to your Bullet. To ride on one of our tours you must hold a current international motorcycle driving license. You must be 18 years of age or over to ride and at least 12 years of age to be a passenger on one of our bikes.

Our tours are run at a leisurely pace and there is no pressure to travel at speeds that you are not comfortable with. However, responsibility for the speed and control of the bike rests solely with its rider. We will do our utmost to keep you safe at all times on tour but ultimately, only you can be responsible for yourself – this is your adventure!
We insist that you wear a crash helmet when riding as you may not be insured without one.

INSURANCE

It is essential that you obtain personal travel insurance. This should include cover for medical, hospital, emergency repatriation, additional, unforeseen travel expenses with provision for cancellation, curtailment and baggage loss. You should make it absolutely clear to the insurer that you are travelling by motorcycle of 500cc capacity as some policies exclude motorcycle travel. The motorcycles are insured for third party, theft and accident damage.
In the event of accident damage to your motorcycle, you will be liable for the first NZ$200 of repair costs.